B-BAR-B RANCH
Katie Breckenridge
katieb(at)bbarb.com
Post Office Box 685
Picabo Idaho 83348
Phone 208•788•4424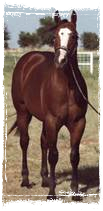 The History of the B Bar B Ranch
Katie's parents were in the sheep industry and the B Bar B Ranch lands were purchased by them in 1944 from the Tipton family who had homesteaded the lands. Katie's father used the 1800 acres of sagebrush for dry grazing in the spring for the bands of ewes and lambs that were moving from the winter headquarters and lambing operations in Twin Falls, Idaho to the summer ranch in Stanley Basin on the Busterback (named by Katie's gran"mother for the men and women who worked so hard they (they almost broke their backs). In the fall, the ewes would return to Twin Falls and stop on the ranch for about a month.
In 1975, Katie and her Dad drilled the first well on the ranch and Katie built her home. Over the years, she opened hay fields, drilled wells, built a small background feedlot and followed her dream of breeding, raising and training the American Quarter Horse. Indoor barns, indoor arena, outdoor arena, corrals, horse pastures, vet room, A.I. labs and collection rooms were added along with employee housing, shops and stack yards.
In 1993 Katie and longtime rancher/farmer Rob Struthers joined their operations together. The B Bar B is the headquarters and the cattle are moved to Robís Fairfield and Magic dry grazing lands in the summer and fall. The ranch sits at the end of Robert Street-named after Robís great uncle whose family built the railroads through Picabo in 1883.
The sheep camp wagons are still stored on the ranch. The ranch is now home to forty head of broodmares, three ranch stallions and their offspring. The horses have all been raised on the ranch and represent over thirty years of a horse breeding program.